There's a through line connecting academia, the Northwest Museum of Art, dirt, X-rays, economics, racial equity, conservation and science (to name but just a few), and that through line exists because of a collaborative partnership here in Washington state.
Meet Phil Levin, a key person behind the partnership between the University of Washington (UW) and The Nature Conservancy in Washington (TNC). He holds dual roles as lead scientist for TNC and professor of practice at UW, and he leads the Interdisciplinary Conservation Science Lab at UW.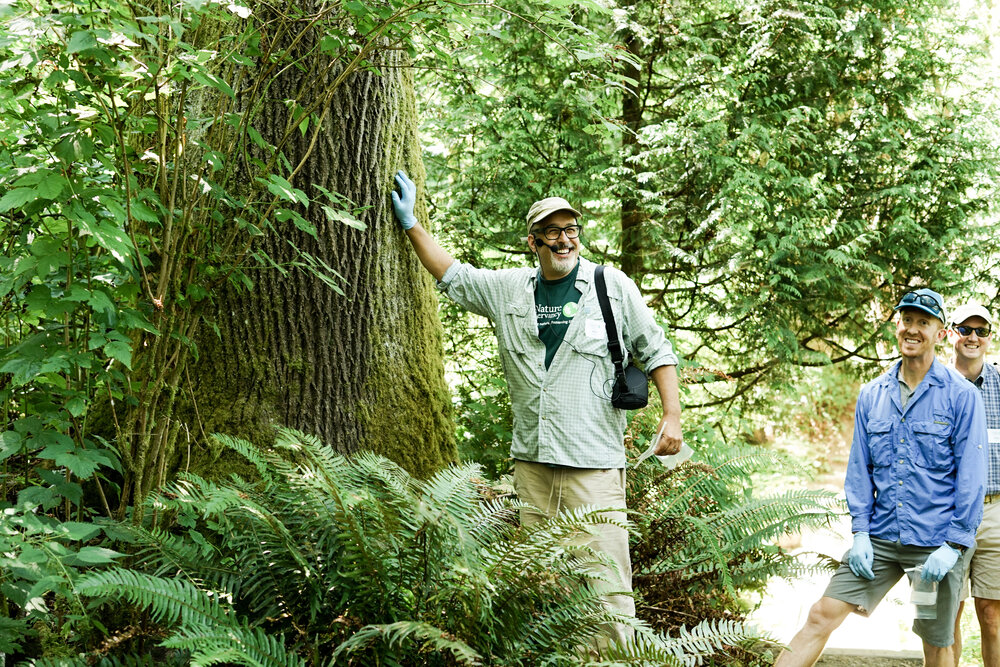 The mission of the lab is simple: provide the science needed to conserve the lands and waters on which all life depends.
How does it do that? By blending academics and scientific theory with collaboration and action.
"A strength of TNC is on-the-ground action. Students and faculty are really hungry for engagement in real, on-the-ground issues. They want to see their work making a difference," said Levin. "Making the jump from knowledge to action can be difficult, so what's cool about the partnership is that we're training students how to do that."
"Building the connections is super exciting," continued Levin. "We're getting a huge amount of work done. Students are getting training on how to be practical, real conservation scientists. Faculty are getting connections that they haven't had before."
A critical component to its success is the two-way dialogue and collaboration between people at UW and TNC. Science tells us what's theoretically possible, on-the-ground experience helps put the theory into action and the interdisciplinary part helps connects all the dots.
"We did a joint climate change project with an art professor, and that was shown at the Northwest Museum of Art," shared Levin. "We work a lot with the UW School of Public Health. Landscape Architecture. Oceanography. Fisheries. Biology. Economics. Evans School of Public Policy & Governance and EarthLab."
Social sciences are a key component to the work, too. Levin was involved with an initiative that emphasized the connections between public health, environmental health and racial equity. Another effort he was involved in touched on finance, insurance and marine conservation. One of his graduate students, Eve Rickenbaker, is, along with a team, looking at how systemic racism influences experiences in green spaces, drawing on insights from history, ethnic studies and social work. Interdisciplinary work really is at the heart of the lab's work.
With more than 700 students getting trained on how to bridge scientific knowledge to action, plus more than 200 collaborators working with Levin and others on conservation projects, there are abundant examples—below are but just two examples of some of the innovative work that's being done:
Dr. Tiara Moore's environmental DNA (eDNA) work uses soil samples to gain insights into what species are present in an environment, which in turn informs environmental management decisions that can mitigate and prevent the effects of climate change.
Mathis Messager's and Ian Davies's research used a portable X-ray machine and traffic data to provide a cheap, effective and precise way to identify potential stormwater runoff hotspots that can benefit greatly from conservation mitigation efforts and ultimately help save Puget Sound's orcas.
The partnership between TNC and UW is bringing cutting-edge natural and social science solutions to critical conservation work here in Washington. The emerging generation of scientists, educators and conservation leaders are all contributing crucial work to create a shared future where people and nature thrive.
---
Learn more about the TNC-UW Partnership
---